Hummer Snowshoe Adventure
Explore the Niagara Escarpment
Experience all the adventure and enjoyment our
Canadian winters can bring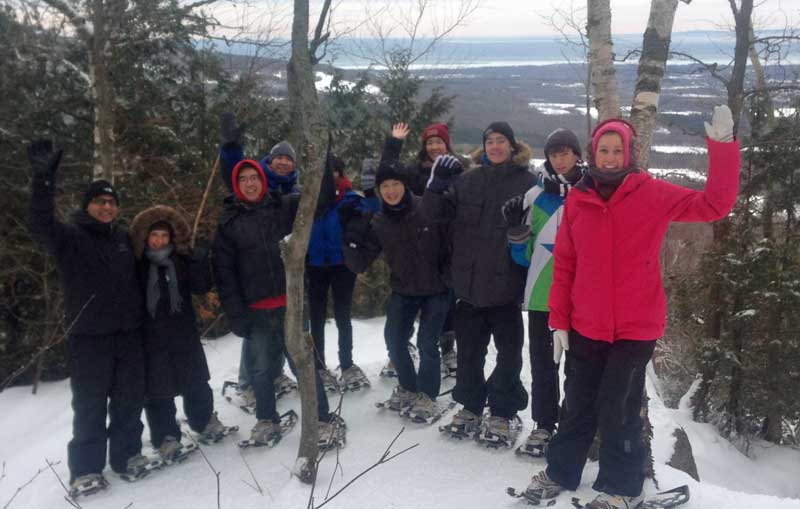 Strap on Your Snowshoes
The most breath taking scenery Ontario has to offer
Want to experience all the adventure and enjoyment our Canadian winters can bring? Explore the Niagara escarpment with our Hummer Snowshoe Adventure.
It's one of the best ways to get together with family, friends, or co-workers and take in all that nature's wintry side has to offer.
A totally awesome way to have fun at this time of year!
We start our adventure by picking you up, Military Style, in the H1 Hummer (One of the most capable off road 4×4 vehicles ever made).
After a 10-15 minute ride up the mountain we unload at the Petun Conservation Area, strap on a pair of snowshoes and after some brief instruction were on our way to take in the sites and sounds of natures finest trails. You will enjoy some of the most breath taking scenery that Ontario has to offer.

One of the Highest Elevations
Learn about the history of the Petun Conservation Area
High atop the Niagara escarpment you will take in a gorgeous view of Georgian Bay, Wasaga Beach and Collingwood from one of the highest elevations along the Bruce Trail. Learn about the history of the Petun Conservation Area which was named after the aboriginal peoples that inhabited the land during the early 1600′s.
After about a 1–2 hour jaunt through the woods (depending on you) we'll take a break and enjoy a hot apple cider back at the Hummer before our return ride back to civilization.
Hummer Snowshoe Adventure
Cost: $59.00 / person
Time: 10:30 am, 1:00pm, or 3:30 pm
What to wear: Warm clothing ie; hat, mitts, snow pants and boots
No experience necessary.
Don't forget your camera! You can expect the unexpected.
Snowshoe Adventure
Same tour as above but without the Hummer Shuttle ( you can follow us or meet us there )
Cost: $39.00 / person
Read What Others Say About Their Experience
~ It was a great introduction to snowshoeing and will probably buy my own and go without the group. The Hummer was fun to ride in – especially the winter conditions we had that day.
~ This was well worth it. Mark is a very pleasant and knowledgeable guide during our snowshoeing tour. He let us go at our own pace as this was our first time we had been snowshoeing. The scenery was absolutely beautiful of untouched nature. We had delicious home made apple cider at the end of the walk. Unfortunately, I couldn't convince Mark to share his recipe…..;o) I would highly recommend this to anyone at any age and would love to go again. Thanks Mark !!
Teresa LeTourneau – Wasaga Beach